NaPali Coast and Niihau Boat Tours
Come aboard with us to Kauai's NaPali Coast! Our large 65-foot catamarans are ready to go for a
fun-filled day, whether you choose our morning snorkel or afternoon sunset dinner cruise. Our
exciting, heart pumping raft tours delight the more adventurous and we offer whale watching tours
seasonally. We are the only NaPali boat company that guarantees dolphins.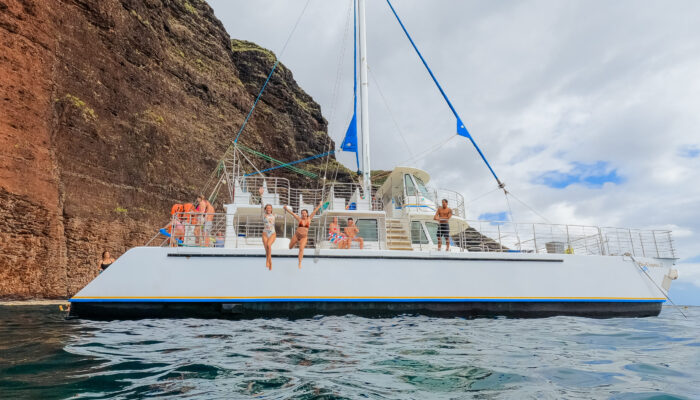 5.5 Hrs | Morning Tour
Begin your day with our most popular morning tour aboard one of our custom-built 65′ catamarans!
Why Blue Dolphin Charters
Blue Dolphin Charters has been operating on the NaPali Coast of Kauai for forty years. Our family-owned and operated business has greeted generations of passengers and repeat visitors over the years.
Our spacious 65' catamarans offer excellent views from our open and upper decks, both with outdoor seating.
Passengers of any age will enjoy the views, snorkeling, the food, dolphins, sea life, and even a waterslide for the kids and young at heart!
We Guarantee Dolphins
Blue Dolphin Charters is the ONLY NaPali charter tour company to offer a guarantee that you will see dolphins on your morning adventure or you will receive another tour on us during your stay!