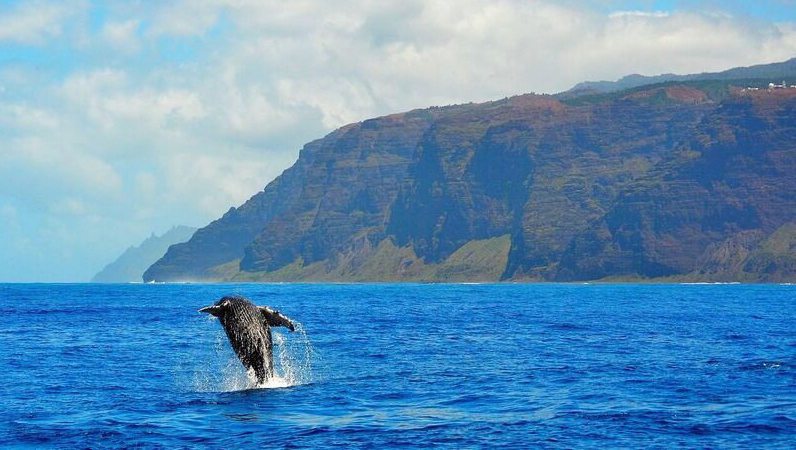 Kauai Whale Watching Season
It's whale season! All our tours include whale watching. We also offer a short 2-hour whale watching tour.
The humpback whale is known for making an annual migration of nearly 6,000 miles, one of the longest of any mammal. It is estimated that more than 10,000 of these whales migrate to the Hawaiian Islands each year during the winter, in search of a warmer climate. The whale watching season in Kauai runs from November through March.
While whales can be frequently spotted during any of the winter months, if you are looking for the best months to see whales in Kauai – January and February are the peak of the whale watching season.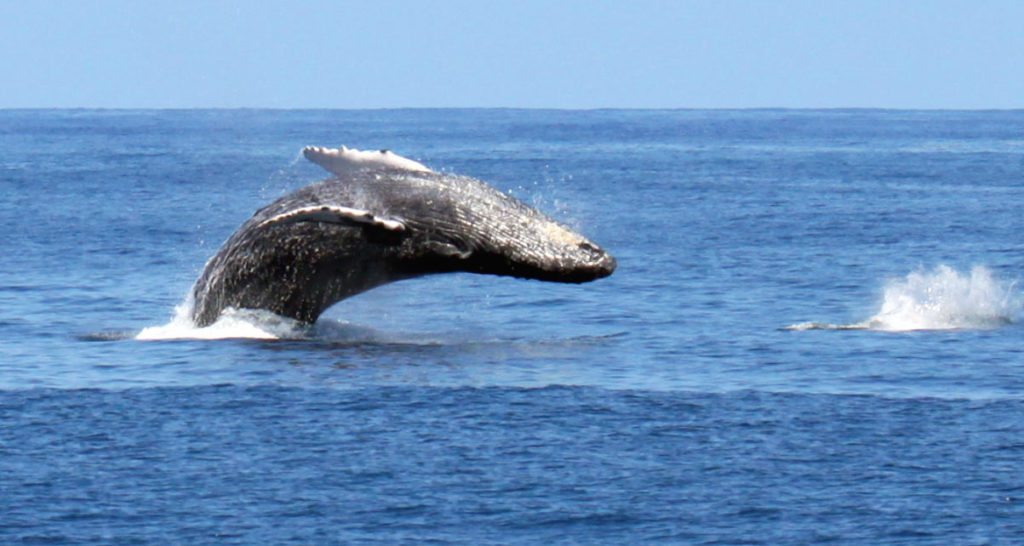 The largest and most peaceful creature
Hawaii is the only place in the United States where the Humpback whales mate, calve, and nurse their offspring. So be sure to keep your eye out for the newly born calves learning how to play! A baby humpback whale calf is typically 10 to 15 feet long and weighs nearly 2,000 lbs. A fully grown humpback whale ranges in size from 40 to 50+ feet long and can weigh up to 90,000 lbs!
The humpback whale or 'Kohola' in Hawaiian, are one of largest and most peaceful creatures on earth. There is something special about watching such a massive animal gracefully glide through the water and effortlessly breach its surface, launching more than 40% of its body out of the water with ease. Join us on one of our whale watching tours for the opportunity to witness this magical event up close and in person!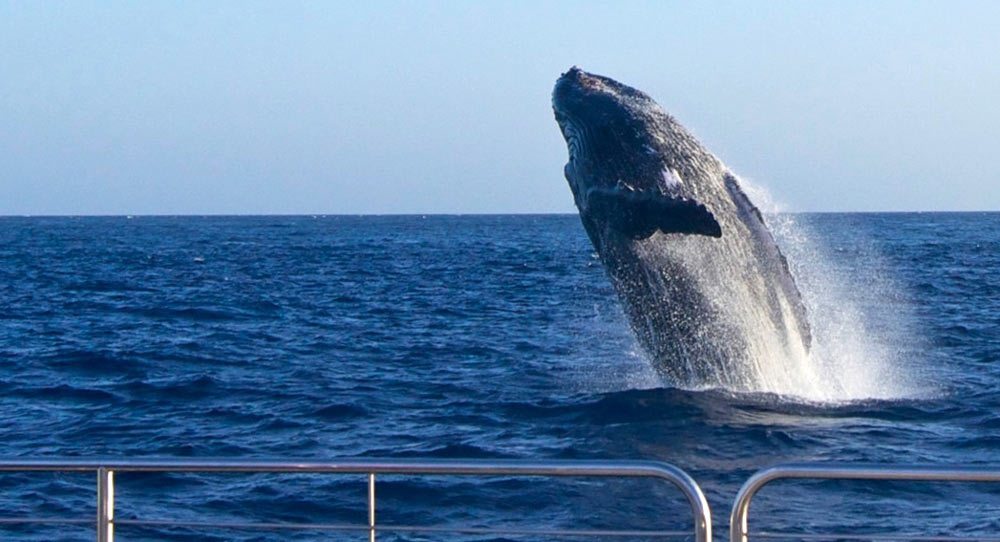 What can I expect to see on a Kauai whale watching tour?
During the winter months and the peak of the whale watching season on Kauai, all of our tours are whale watching tours and you are bound to see the magnificent humpback whale along any of our NaPali Coast, South Shore or Niihau adventures.
If you are looking for a quick and easy whale watching tour, check out the 2 hour Poipu Whale Watching cruise. This tour is only available during the winter months and puts you right in the midst of the action and allows you to watch these great creatures swim, breach and play in the warm waters of the Hawaiian Islands. While this tour is dedicated specifically to whale watching, you may see whales on any of our other tours during the Kauai whale watching season!
However, it is about more than what you will see! We also provide 'hydrophones' on our whale watching tour for you to hear these groups or 'pods' of whales socialize and communicate with each other. The humpback whale communicates with three different types of sound: clicks, whistles and pulses. Each sound serves a unique purpose as they navigate the waters together, feed, and breed with each other. These sounds are repeated over and over again in distinct patterns that form a beautiful song known as the 'humpback song'.
Book our Kauai Whale Watching Tour and get ready to experience the sights and sounds of these massive and magnificent creatures, creating memories that will last you and your loved ones a lifetime!